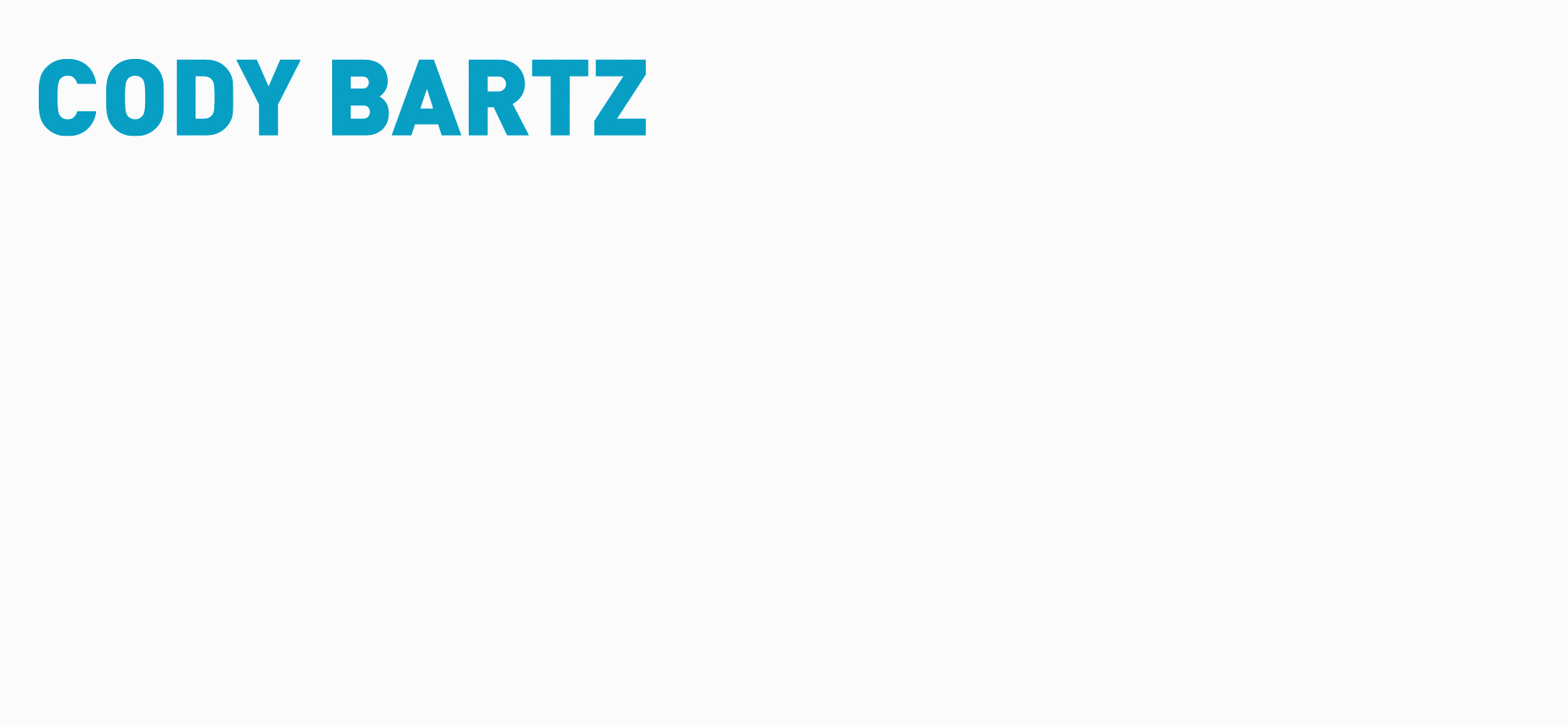 Hello!

I run a graphic design studio where I create a variety of print and digital media. I also illustrate and screen print. I enjoy working with good people and good causes. I love to help startups and small businesses get off the ground, as well as big companies reach new ground.



I would love to hear about your project and how we can collaborate.
hello@codybartz.com

Capabilities
Graphic Design
Art Direction
Logos & Branding
Identity Systems
Posters
Book Design
Packaging
Campaigns
Illustration
Animation
Print Production
Typography

---
EDUCATION
2006 - 2010
Bemidji State University - Bemidji, Minnesota
B.F.A. in Visual Arts (printmaking emphasis)
B.S. in Design Technology (digital design: print emphasis)
Graduated with Magna Cum Laude honors.

2005 - 2006
North Dakota State University - Fargo, North Dakota
Studied Architecture, Landscape Architecture and Art.


---
WORK EXPERIENCE
2011 - Present
Cody Bartz Design
Freelance graphic design and printmaking
2017 - 2018
Fairway - La Crosse, Wisconsin
Graphic Designer, Art Director
2014 - 2017
Metre - La Crosse, Wisconsin
Graphic Designer, Art Director

2013 - 2014

Smith's Cycling & Fitness - La Crosse, Wisconsin
Bicycle mechanic

2014
Xerox - La Crosse, Wisconsin
Print Production and Assembly

2012 - 2013
Occupational Development Center - Bemidji, Minnesota
Job coach for individuals with disabilities

2010

Gartner Studios - Stillwater, Minnesota
Internship study in graphic design

2009 - 2010

Screenprint Studio - Bemidji State University
Studio supervisor. Gave demonstrations, taught techniques, restocked supplies, kept tidy. Taught college screenprinting course for six weeks.

2009

Ceramic Studio - Bemidji State University
Teaching Associate for a ceramics studio course. Gave demonstrations, taught techniques, assisted in upkeep of studio and supplies.

2008 - 2009

Bemidji Community Art Center - Bemidji, Minnesota
Gallery attendant, helped install exhibitions

2006 - 2008
Communications and Marketing - Bemidji State University
Graphic designer of campus publications

2006 - 2008

Talley Gallery - Bemidji State University
Graphic designer of gallery publications
---
SELECTED EXHIBITIONS
2017
Process
Gallery M, La Crescent, Minnesota
(solo exhibition and project of a grant award)

2017
Political Propaganda, Pet Peeves, and People Pollution
Pump House Arts Center, La Crosse, Wisconsin
(solo exhibition)

2016

Connecting Species

Viva Gallery, Viroqua, Wisconsin
(solo exhibition)

2015

One Layer at a Time

Root Note, La Crosse, Wisconsin
(solo exhibition)

2014

Ink & Mud
Grounded, La Crosse, Wisconsin
(solo exhibition)

2013

Prints & Paints
Headwaters Unitarian, Bemidji, Minnesota
(two person exhibition)

2011

Connecting Species
Rourke Gallery, Moorhead, Minnesota
(solo exhibition)

People & Places

Wild Hare Bistro, Bemidji, Minnesota
(solo exhibition and project of a grant award)

2010

Connecting Species
Talley Gallery, Bemidji State University
(B.F.A. exhibition)

2009

It's Only Clay
Bemidji Community Art Center, Bemidji, Minnesota
(group exhibition juried by Richard Bresnahan)

Poster Power
Bridgeman Gallery, Bemidji State University
(solo exhibition)

College Bowl
Northern Clay Center, Minneapolis, Minnesota
(juried group exhibition)

Two Ready. One Made
Gallery X, Bemidji State University
(two person collaboration)

2008
Smash
Gallery X, Bemidji State University
(solo exhibition)

2007
I'm Telling You, There is Clay from Three Artists in This Room
Gallery X, Bemidji State University
(group exhibition)
---
AWARDS, GRANTS, SCHOLARSHIPS


2017
Individual Artist Grant
Southeastern Minnesota Arts Council

2017
Best of Show
Artspire Art Fair, La Crosse, Wisconsin

2013
Individual Artist Grant
Minnesota Region Two

2012

Best in Category
Grand Cities Art Fest

2011
Emerging Artist
Grand Cities Art Fest

2010
Individual Artist Grant - Minnesota
Dalzotto Art Purchase Gold Award
French Paper Sample Room
Alliss Scholarship

2006 - 2010
Dean's List
Bemidji State University

2009
Westy James Scholarship
Margaret Harlow Ceramic Scholarship
Kraus Anderson Scholarship
Lillie M. Kleven Print Scholarship
Alliss Scholarship

2008
Lillie M. Kleven Print Scholarship
Alliss Scholarship

---

OTHER EXPERIENCE
2012 - 2013

League of American Bicyclists
League Cycling Instructor

2010 - 2013
Peacemaker Resources
Bemidji, Minnesota
STAR (Students Teaching Attitudes of Respect) Youth Advisor

2011 - 2012
Shifting Gears
Bemidji, Minnesota
Volunteer work teaching bicycle traffic skills

2011
4th Annual Bemidji First City of Art Studio Cruise
Bemidji, Minnesota
Juror

2006 - 2010
Art Association
Bemidji State University
Member

2006 - 2010
Ceramics Club
Bemidji State University
President (2008)

2009
Community College Fine Art Conference
Bemidji State University
Presented workshops on screenprinting

2006 - 2008
Design Guild
Bemidji State University
Member